Creating a Database
Validation databases enable the codeREADr app to check if the value of a scanned barcode (or NFC tap, manual entry, search entry, etc.) exists in that database. If it does, it will return a Valid message to the app user and any related information (the 'Response' text). If the value is not in the database it will return an Invalid message or Invalid Duplicate, if so enabled.
Important: You do not need to use barcodes generated by codeREADr. Most clients use their own barcodes and simply upload the barcode values (IDs) to our servers or keep them on their own servers for validation.

Examples:
Tickets with barcodes scanned will be matched to determine authenticity
Check if an item or asset exists in the database
Verify if a member, student or employee's ID is valid
To create a database CSV file in the correct format, please click here.
Steps:
Click the 'Databases' link in the navigation bar
Click 'Create a Database'
Enter a Name for your Database
[OPTIONAL] import values from a CSV file: Help
Click 'Create Database'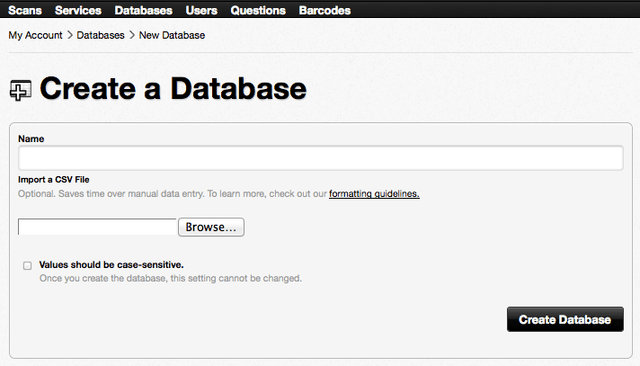 Once you've created a database, users can do the following: