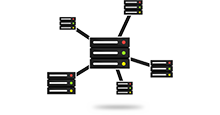 Post Scans Anywhere
Our Server. Your Server. Local Database.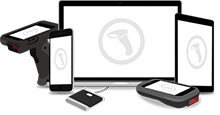 Device Flexibilty
Smartphones. Tablets. Accessories.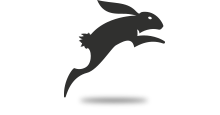 Fastest Scanning
Scan with just the built-in camera.
WE'VE DONE THE HEAVY LIFTING
THE APP
Quick. Accurate. Flexible.
Rapid Barcode Scanning
Quickly and accurately decode barcodes with the device's camera or pair a bluetooth scanner.
Learn more
Branding the App
Add your logo to the scanning screen of our generic app or white label the app entirely.
Learn more
Work Offline with Auto-Sync
If online connectivity becomes unstable, scans are saved on-device and synced later.  
Learn more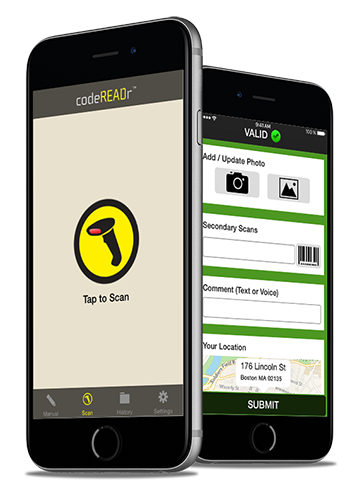 Validate in Real-Time
  Validate your scans against a database of items and create special workflows.
Learn more
Collect Data with Forms
 Ask multiple choice, drop-down or short answer questions with each scan.
Learn more
Photo Capture & GPS
Collect image data with barcode scans by taking pictures. Collect location data with each scan.
Learn more
ALWAYS IN SYNC. EVERYWHERE.
THE WEB
Collect. Manage. Secure.
Database Management
Import, sync and edit databases in the cloud.
Learn more
Service Management
Setup custom workflows for each service and the database to validate against.
Learn more
Form Management
Specify the form fields, the order, and the conditions with which each question is asked with a barcode scan.
Learn more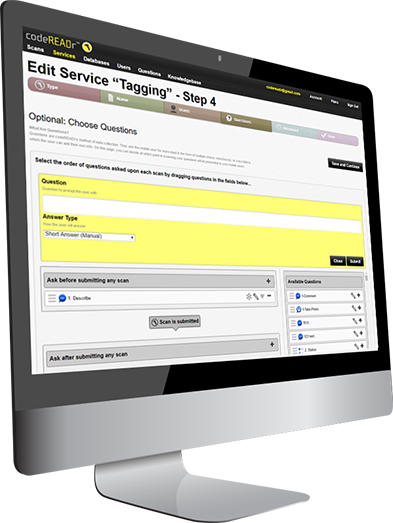 User Management
Specify user permission for access to services and databases. Get detailed reports on a user.
Learn more
Secure Communications
 The security of your data in transit and at rest is a top priority.
Learn more
API's and Webhooks
 Full control of devices, users, and data with with API integration.
Learn more

Businesses
No coding. Create production-ready workflows in 10 minutes, issue app logins to employees and contractors.

Institutions
 Leverage one tool for many solutions. Attendance, access control, asset tracking, security and more.

Service Providers
Connect your backend (or not), design workflows and give your client's app login credentials. White label option.
GET SETUP IN MINUTES.
Sign up with our Free Plan. No credit card required.