Security Patrols: Facility Lock-Down and Safety Checks
Facility Lock-Down and Safety Checks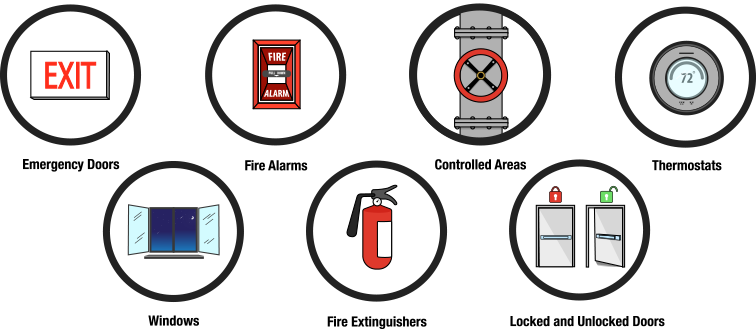 Among our many solutions, you can monitor the security and safety of your campus. For instance, administrators can confirm patrols have performed on schedule. Also, they can monitor their routes and schedules. Lastly, they can issue reports to management and law enforcement officials in states of emergency.
Most importantly, they can enforce good safety procedures. Guards scan a barcode label or NFC tag at every door, gate, and lock to report the status in real-time. In this way, they can use records to highlight problem areas and report. Note: 'Asset' refers to doors, gates, locks, etc.
Starter – Record Only
For this type of service, you won't need a validation database. When the app user scans an asset's barcode, you can prompt the user to enter information regarding the asset. However, you cannot give directed information about that specific asset as they scan the barcodes. For example, as they inspect a gate, you might want to tell them the locked/unlocked times for that asset. Importantly, you need a validation database to do that (see below). Also, you cannot use the text/voice-search feature to search the database. More specifically you cannot use it in place of scanning barcodes for all assets. Moreover, you cannot use in those cases, where affixing a barcode or NFC tag was impractical. Nonetheless, the record-only type offers an easy way to start your service. << See our Step by Step Instructions. >>
Intermediate – Validation
For this type of service, you will need a validation database. Basically, it is a simple table that you can upload to our server. When the users scan an asset's barcode, you can give them specific information about the asset. For example, as they inspect a door, you can confirm the location. Additionally, you can tell them the locked/unlocked times of the door. Furthermore, you can inquire the users to enter information about the door. Generally, such info can include text, voice to text, multiple-choice, photos, GPS, etc. << See our Step by Step Instructions.>>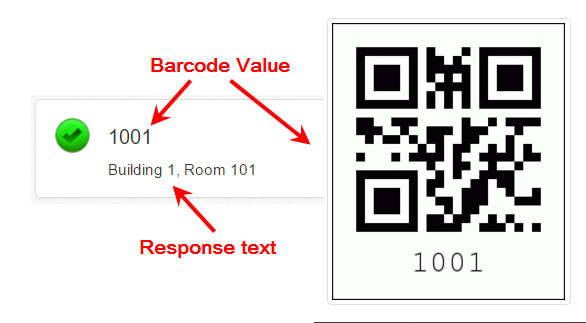 Advanced – IT/Developer Integration
Developers can integrate codeREADr into their applications or back-end using our APIs. Also, they can use advanced features, such as regular expression, contextual variables, and Webify. In addition, the dual-function QR code would work nicely, so consumers could scan it to report any issues.
Capturing Asset IDs:  Scan barcodes, tap NFC tags, text/voice entry and search database
Generally, you need to label the assets with a barcode (low cost) or an NFC tag. It is important to note that NFC tag is somewhat expensive, and not all smartphones have it. Alternatively, you could simply label each asset with a human-readable number for text/voice-entry. If you are using a validation database, you could use the app's Look-Up feature to search for the asset. Notabl,y you can use it for either hard-to-label assets or for all assets. Remarkably, it's fast and accurate even when searching for the first few characters of the ID.
However, to minimize error, using a barcode is ideal. For record-only services, you'll need to tag each asset with a QR code embedded with a number and/or a name. For example, your asset should clearly indicate that it is for the fire exit – stairwell #3. You can easily print QR labels using low-cost programs, such as iBarcoder for PC and MAC. Also, you can generate them with codeREADr on the Databases page.
Alternatively, you could use the barcode already on the asset or label it with another barcode type. With a validation service this is no problem because you would have already associated the asset ID (barcode value) to the asset name (response text) – see importing a CSV file. However, with a record-only service, you have to associate the asset IDs with the asset name. Furthermore, unless you are familiar with Excel or other database programs, that might be a lot of work. Therefore, you should use QR codes with a human-readable text for record-only services.