Record Scans Service Type
Record Scans Service Type
Step 1 – Service Type.   Click 'Services" then 'Create Service'.  Select 'Record Scans' online or offline.  Then click 'Create Service' at the bottom of the page.[Note: Even with Internet connectivity we recommend scanning offline with Auto Sync for the fastest scanning. Since Auto Sync requires a paid plan for trial accounts test with online scanning.]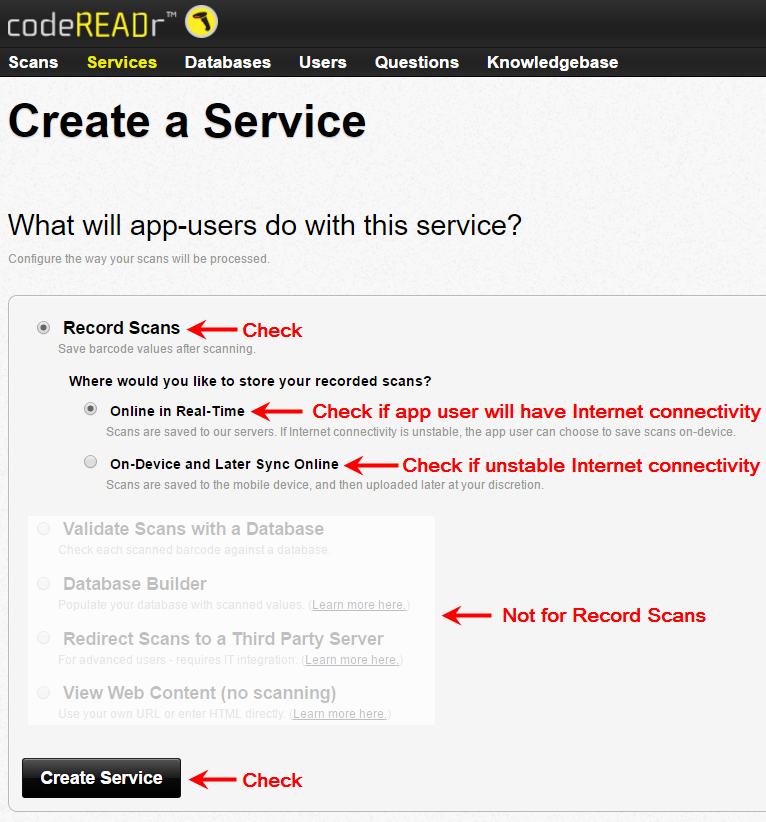 You will now see the rest of the steps in this banner:


Step 2 – Name.   Name the Service so the app-user knows what they are to do. Optionally add a description (i.e. instructions) for the app-user.  Save & Continue.


Step 3 – Users.   Add as many new 'Users' (app-users) as you want.  Be sure to authorize them for this service by checking the box next to the new username once created. A good naming convention it to add a prefix or use an email address so it's unique.  Save & Continue.


Step 4 – Questions.   These are in-app prompts for the app-user to collect additional data after each scan.  Look here for instructions. Options include:
Form Fields
Multiple Choice
Dropdown Menus
Photo Capture
Secondary Barcode Capture
Signature Capture
Step 5 – Advanced.   There are a lot of options here but most are for the more sophisticated users. Here are the ones we would recommend to keep it simple.
Auto Sync : Scans are automatically uploaded in the background. This is for paid plans only. Without a paid plan your app user can scan offline but they will need to manually upload their scans. Note: you shouldn't check this if you want your app-users to edit and delete their scans before they are uploaded.
Auto Next Scan : There's no need for your app users to press buttons to continuously scan The standard option is 'Only When Valid'.
Target Barcodes : This is important if you are scanning Code 39 barcodes.
Here's an explanation of the options: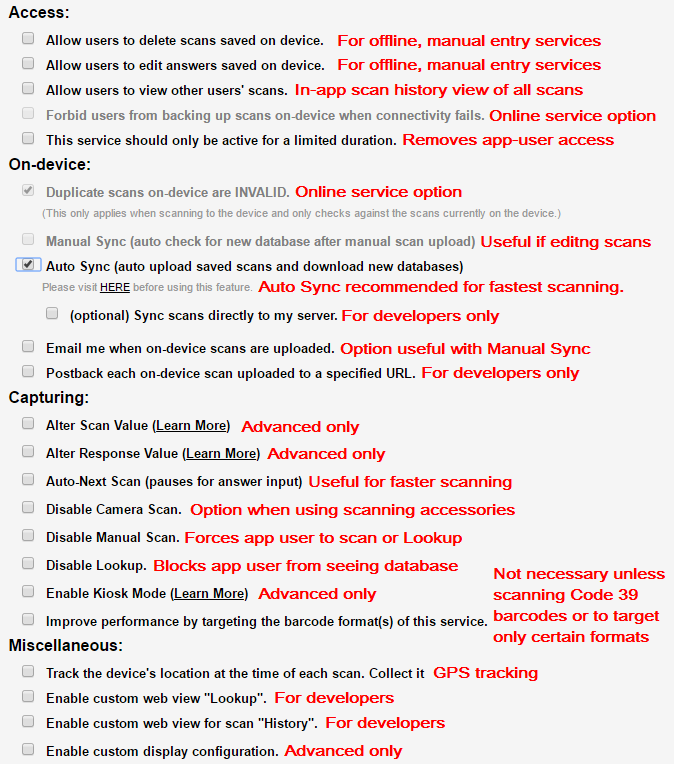 That will complete your Service setup.
Step 6 – Export Template.  Create an Export template to structure your exported data. Look here for instructions. In the template you can include all the fields you need, put them in the ideal order, change the field headers and  add placeholder fields. Here ate the core, recommended fields.
Service Name
User Name
Barcode
Timestamp Scanned
Step 7 – Filter, Share, Insert and Export.  For viewing, filtering, sharing and exporting your scan records you can create CSV Download Links, including a web portal for sharing filtered scan records. You can also auto insert scan record into third party database services like Google Sheets and QuickBase.