Employee Tracking and Security Patrol App Technology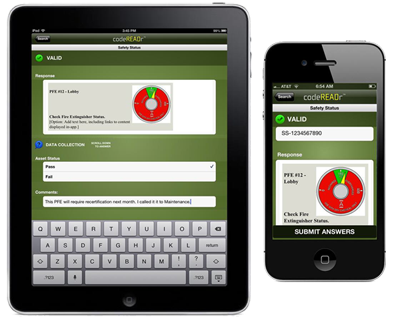 How Do Security Patrol Teams Use Smartphones?
The CodeREADr app and web service empowers security patrol teams to capture, track, monitor, and report in ways that were previously impossible or impractical. Why? Because of the ready-availability of low-cost, feature-rich smartphones and tablets, along with enterprise employee tracking and security patrol app s like CodeREADr.
CodeREADr is used at fixed locations, such as the entrances of buildings, parking garages, and any secure area. However, it's the ability to take security anywhere on campus that helps enable best-in-class security operations. We call this 'intelligent mobility.'
Security teams can use their own devices, or provisioned devices, to generate actionable data for real-time monitoring. This comes with detailed time- and location-stamped reports for management's review. This not only increases the security team's value in the eyes of management. Most importantly, CodeREADr's application as a patrol app can significantly improve facility and campus security.
Based on feedback from our clients, here are the top five ways CodeREADr is used as a security employee tracking and/or security patrol app.  Following this list, read how one of the world's largest security services, AlliedBarton Security, is using CodeREADr.
Businesses, factories, housing developments, and schools use CodeREADr to monitor the status and condition of equipment and infrastructure. Reports are generated to confirm maintenance has been performed on schedule. They're also used for meeting government regulations and building codes. A simpler application is for enforcing safety procedures.
Facilities that already have access control systems in place instruct their current service providers to integrate with CodeREADr using our extensive APIs. They get the best of both worlds – their provider's purpose-built application plus CodeREADr for mobility.
Facilities without such systems use CodeREADr as a simple visitor and employee tracking tool – basically a check-in and check-out function. This can be a fixed or mobile use. It is very similar to how CodeREADr is used for attendance tracking.
Facilities with parking management & control systems integrate CodeREADr to add intelligent mobility and reporting. Facilities without such systems use CodeREADr as a stand-alone tool. In managed lots, a typical deployment would include the creation of a database. This would include vehicle license plates associated to a specific employee, resident, or member. A QR code sticker could be issued to the vehicle owner for scanning with CodeREADr. Or, the app user could simply use the app's look-up feature to search for the vehicle by its license plate.
A Security Patrol App That Enhances Coverage and Efficiency
Tracking security patrol performance based on time and location gives management the data to more effectively route and schedule coverage. This leads to better security.
Guards scan a barcode tag at every door, gate, and lock to report its status in real-time. This way, there are records for highlighting problem areas and for reporting purposes.
Capturing Asset IDs:  Scan barcodes, tap NFC tags, text/voice entry and search database
Generally, you need to label the assets with a barcode (low cost) or an NFC tag. It is important to note that NFC tag is somewhat expensive, and not all smartphones have it. Alternatively, you could simply label each asset with a human-readable number for text/voice-entry. If you are using a validation database, you could use the app's Look-Up feature to search for the asset. Also, you can use it for either hard-to-label assets or for all assets. Moreover, it's fast and accurate even when searching for the first few characters of the ID.
However, to minimize error, using a barcode is ideal. For record-only services, you'll need to tag each asset with a QR code embedded with a number and/or a name. For example, your asset should clearly indicate that it is for the fire exit – stairwell #3. You can easily print QR labels using low-cost programs, such as iBarcoder for PC and MAC. Also, you can generate them with CodeREADr on the Databases page.
Also, you could use the barcode already on the asset or label it with another barcode type. With a validation service this is no problem because you would have already associated the asset ID (barcode value) to the asset name (response text) – see importing a CSV file. However, with a record-only service, you have to associate the asset IDs with the asset name. Furthermore, unless you are familiar with Excel or other database programs, that might be a lot of work. Therefore, you should use QR codes with a human-readable text for record-only services.
Case Study
The following quote can be attributed to JC Chaudhry, AlliedBarton Security, West Coast Client Area Manager, Johnson & Johnson
"We placed QR codes all over our campus that officers scan as they do their patrols. When they scan the QR codes we are able to track their movements and do monthly reports showing where they have been, what they have missed, and where they are spending way too much time – we then try to balance their patrols.
We put QR codes on our freezers and other highly important areas. After they scan them, the app shows them what the freezer temp should be, which helps in a major way because if the freezer is too high or low they can call it in right away. We can also give them directions to perform certain tasks at various points during their patrol, which is really helpful to them for doing their job.
We even use CodeREADr to look up employee's license plate numbers. This comes in handy for officers when they are doing parking lot patrols. For example, if they see a car with their lights on or a door or window open, they are able to call it into the control center and have them contact the employee."
AlliedBarton is one of the largest security service companies in the world with 120 regional and district offices located across the United States. JC Chaudhry is one of the early adopters using CodeREADr as a patrol app and one of the most innovative.