Sept 11, 2023

•

4 min read
Attendance Tracking with Google Sheets and the CodeREADr App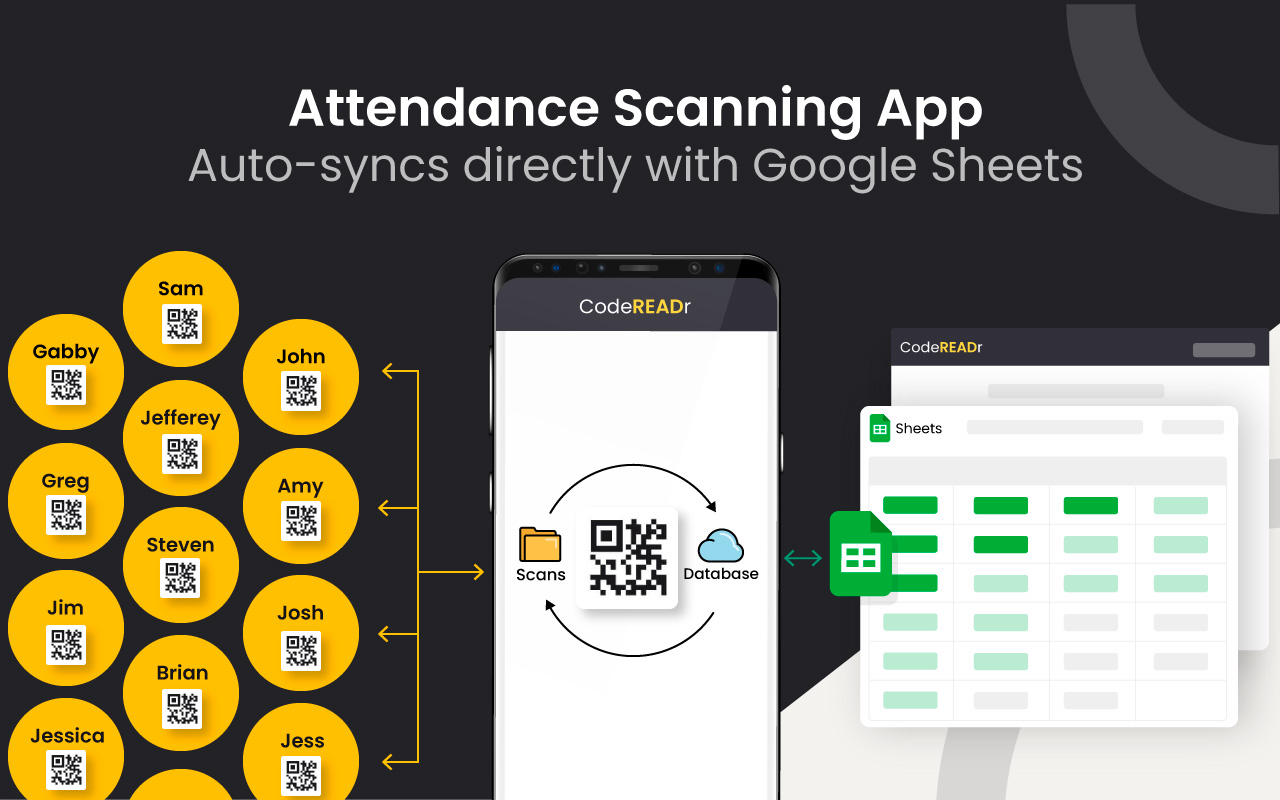 How to Use Google Sheets to Automate Attendance Tracking when Scanning ID Barcodes and RFID/NFC Tags for Access Control
Introduction
Digital or physical IDs with barcodes or RFID/NFC tags have commonly been scanned for access control and attendance tracking applications. Administrators can use smartphones, tablets, and dedicated scanning devices and accessories to capture IDs and validate them against an on-device or online database.
This article will detail how the newly released CodeREADr Connector add-on can help administrators automate the transfer of data to and from Google Sheets and the CodeREADr cloud and mobile app.
Sync IDs from Google Sheets to CodeREADr
To validate an ID with the CodeREADr app, your sheet needs to be populated with a list of the student, employee, contractor, or visitor IDs.  When scanned with the mobile app, either by an administrator or at a kiosk, each scanned value is validated against that list.
If the value is in the database, the app presents a green "valid" screen. If it's not, the app presents a red "invalid" screen. If the value has already been scanned, the app will optionally present a red "invalid duplicate" screen.
The CodeREADr Connector add-on will automatically sync that list to the CodeREADr cloud server in real-time or at intervals. The list is then synced to the mobile app on all scanning devices.
Sync Scans from CodeREADr to Google Sheets
Scan records are uploaded from the CodeREADr mobile app to the CodeREADr cloud. The record will include many attributes for each scan. Those attributes include who scanned the value, when it was scanned (timestamp) and where it was scanned (GPS), along with the status (valid, invalid, duplicate). It can also include optional associated data such as photos and question-answers.
The scan records residing on the CodeREADr server are automatically synced to the sheet in real-time or at intervals.
Reporting tools from Google Sheets
To enhance the usefulness of the imported scan data, Sheets offers a wide variety of reporting tools.
Formulas
Charting Tools
Pivot Tables
Script Editor
Data Studio
If you are not familiar with these tools, you can readily find consultants who can build whatever reports you need for a reasonable hourly rate. We have found the rates vary from $25/hour to $60/hour depending on the complexity of the tasks and skills of the consultant.
Why use Google Sheets for Access Control and Attendance Tracking?
Google Sheets, with its blend of simplicity and advanced features, provides an excellent platform for access control and attendance tracking. You can efficiently control access, monitor attendance, automate data collection, and generate detailed reports.
Moreover, being cloud-based, it ensures that the data is accessible from anywhere, facilitating remote work, meetings, and education scenarios.