Show Scanned and Unscanned Data
Databases: Advanced Search
View Disposition List of Scanned and Unscanned Data
In addition to the feature where you app-users can see within the app what has been scanned and unscanned, on the codeREADr website's Databases page there is an Advanced Search option for administrators which has several powerful features:
A – You can search by Scanned values (accounted for) and Unscanned values (unaccounted for) and see the results directly on the Database page. The results (a  "Disposition List") are updated in real time from all app-user devices, providing the device has Internet connectivity. Simply refresh the page to update that view.
You must select the service to check against and then scroll down the web page to see the results.
B – If you create a password-protected Share Link, you can then view the status from any web browser without signing into codeREADr.com.
Importantly, you can also share this link with your app-users, your team members and even your clients. All you need to do is issue them an app username and password for the specific Service you created.
Notes:
Share Links are only helpful if you want to share the Disposition List. Those with access will be able to view the list, but not edit it or download it.

The scanned/unscanned status is based on the Service you selected. If the tasks performed for these Services repeat daily, for example, then you will need a new Service for each day. Therefore, this feature may not be appropriate for repetitive tasks unless you are willing to use the 'duplicate' option on the Services page to duplicate the Service daily or for a week in advance.

A good practice would be to name the Share Link after the specific task or the Service selected.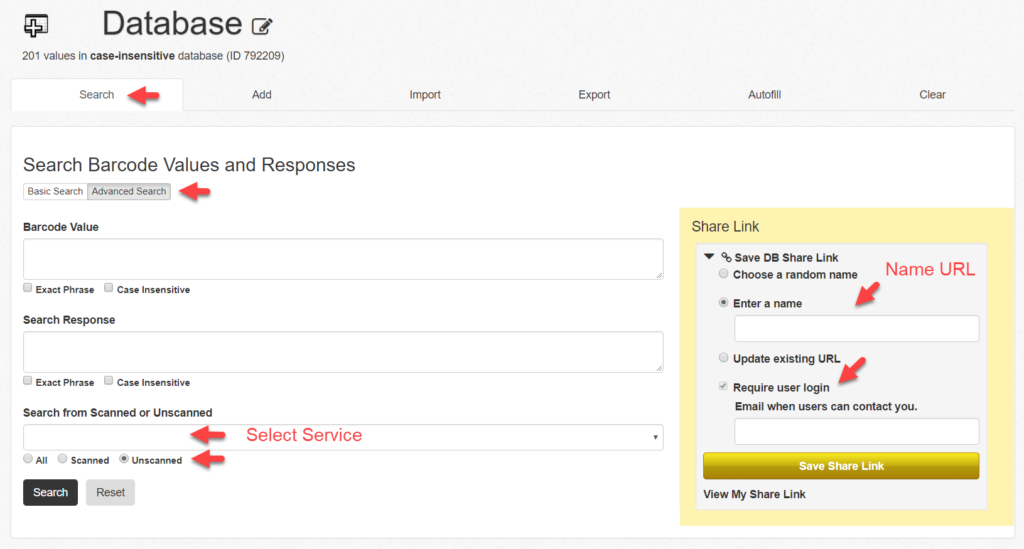 #