Add Questions to Services
Add Questions (App-User Prompts)
Data Collection in codeREADr comes in the form of Questions and Answers. To start, the account administrator must first create a question or pull from the pre-existing questions bar, and then do the following:
 Click 'Services' on the Navigation bar
Select the service you want to add questions to.
Click on the 'Questions' tab.
Drag any of the questions from under 'Available Questions' to under any desired section to assign.
Click 'Save and Continue' when you're finished.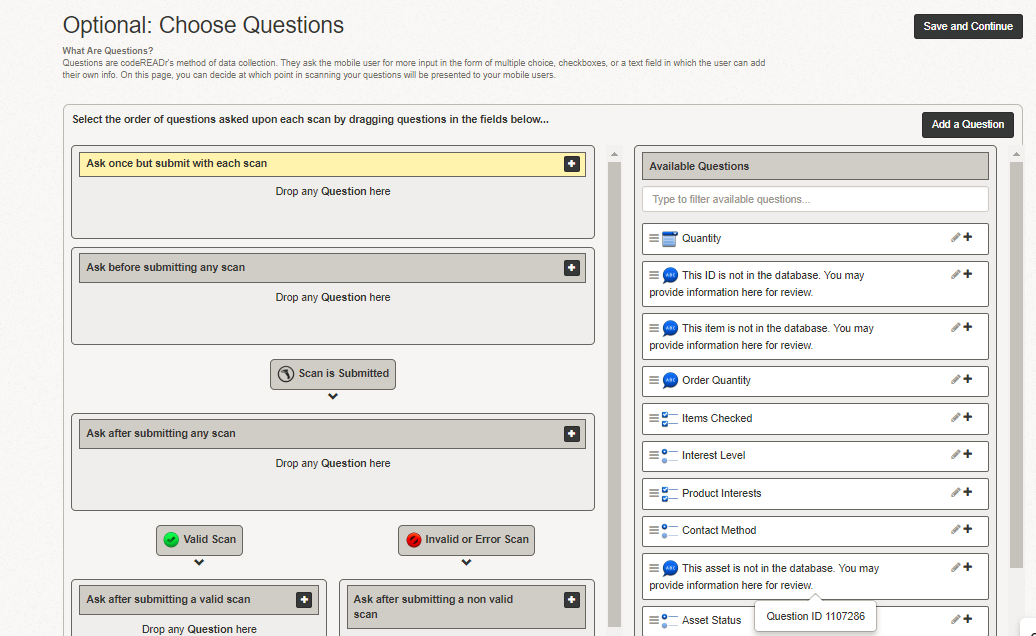 There are 5 different conditions in which a service may prompt a user to answer a question:
| | |
| --- | --- |
| Ask Once but Submit with each Scan | Prompts for data collection once before scanning begins. |
| Ask Before Submitting any Scan | Prompts for data collection after a barcode has been scanned but before it has been processed. |
| Ask After Submitting Any Scans | Prompts for data collection after a barcode has been scanned but after it has been processed |
| Ask after Submitting Valid Scans | Prompts for data collection after a barcode has been scanned, processed, and exists against a database in validation services or well formed in recording services. |
| Ask after Submitting Invalid Scans | Prompts for data collection after a barcode has been scanned, processed, and does not exist in a database, is marked as invalid, or is a duplicate scan. |