We are often asked for recommendations on barcode label software or printing companies for asset tag labels.  There are a number of options depending on if you are looking for custom barcode labels or pre-printed barcode labels. If you contact us, we would be happy to recommend a label printing company.
To make it easy to start your asset tracking program, we purchased a few rolls of sticker labels and can ship them to you. They are professionally pre-printed, randomly generated, human-readable sticky QR code labels. We will send a CSV file of the generated ID's so you can import them into your account.
We offer a CSV file of random IDs embedded in QR codes shipped with corresponding rolls of low-cost, pre-printed, sticky labels. You can easily create a table of IDs for importing to CodeREADr, each with a description associated with it (optional).
Minimum Orders:
5,000 labels (5-rolls) @$249.50 + shipping
10,000 labels (10-rolls) @$449.50 + shipping
Size: 7/8 inch square (22.2mm) with the QR code 1/2 inch square (12.7mm).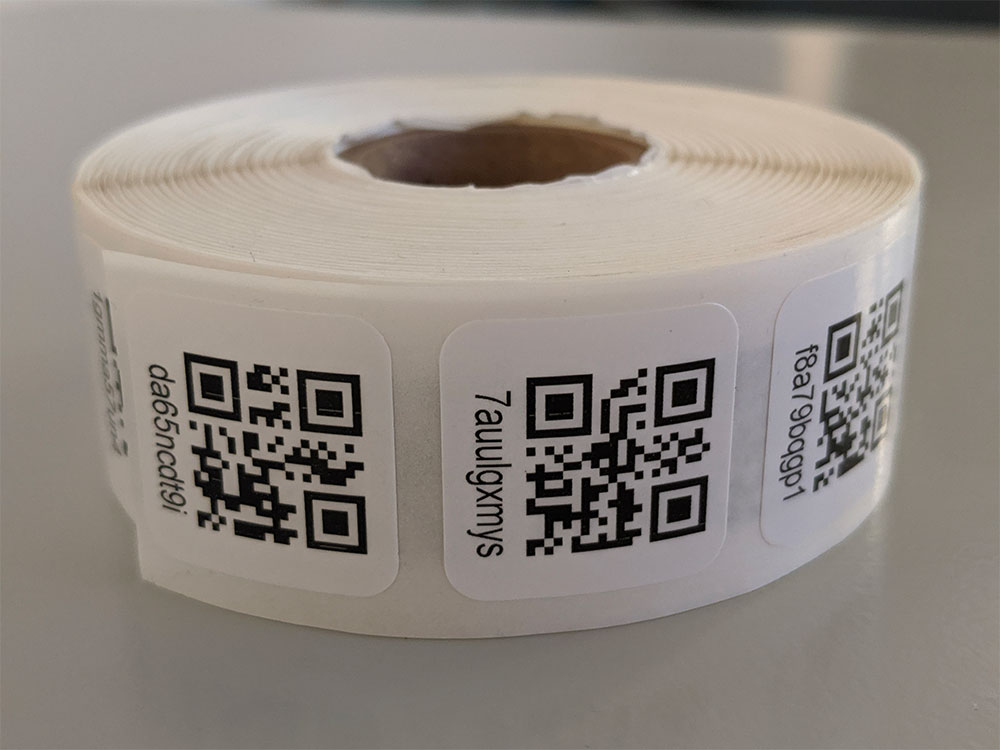 $49.95 per roll of 1000 barcode label stickers (+ shipping)

Great for rapid scanning.
Only .875″ square

Randomly generated barcode values.
Unique ID for each label

Database file included.
For easy editing in Excel or other DB

Convert to CSV format.
One-click CodeREADr integration

Affordable: $49.95 per roll of 1000.
Cheaper than printing yourself

Adhesive backed labels.
Easy to apply
Purchasing instructions:
You will need to have a Free Plan or Paid Plan account on CodeREADr.com. If you choose a paid plan you can downgrade at any time (see Pricing FAQs).
You must enter a credit card on the Account > Billing > Credit Card page.
When done, email support@codereadr.com and indicate your account's email address, how many rolls of 1000 labels you need, and where to ship them.
We will charge your card within 24 hours of receipt of your email. We will send the list of barcode values via email after the payment is successful. It takes 2-3 days to prepare the shipment and 2-3 days for you to receive them via USPS Priority Mail.