Scan to Order With Smartphones and Streamline Ordering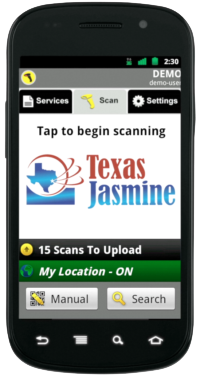 Wholesaler Texas Jasmine Integrates CodeREADr With POS.
Scan to order technology:
Cuts Convenience Store's Ordering Time in Half
Improves Order Accuracy
Drastically Reduces Overhead

BOSTON, MA and HOUSTON, TX — (Marketwire – Sep 8, 2011) — Texas Jasmine, a leading wholesaler servicing over 5,000 independent convenience store customers in the Texas region, and Skycore LLC, developers of the CodeREADr barcode scanning and validation platform, have today announced the immediate availability of Texas Jasmine's Smartphone Ordering App for convenience stores. The app enables participating Texas Jasmine customers to quickly, easily and directly place stocking orders using nothing more than their smartphones.
Store managers simply use the smartphone's camera to rapidly scan, validate and record the UPC barcodes of ordered items. After each scan the order quantity is entered and later the completed order is directly uploaded from the phone to Texas Jasmine's POS system.
"Our app cuts the time in half for placing stocking orders and it's far more accurate than the old paper and fax method," said Jim Momin, GM of Texas Jasmine. "The app is easy to use and there's no capital expense for commercial scanning hardware or software."
The branded app is powered by Skycore's CodeREADr platform. Texas Jasmine integrated CodeREADr with their database and back-end system to create a seamless solution for their customers.
"Texas Jasmine is the first wholesaler we've seen enable their customers to use smartphones for conducting B2B mobile commerce," said Rich Eicher, CEO of Skycore. "Frankly, it's one of the most innovative uses of our platform to date and one that will certainly favorably differentiate Texas Jasmine's customer service from their competitors."
About Scan to Order
About Texas Jasmine
Texas Jasmine, Houston, TX, is a leading wholesaler supplying affordable, quality products to independently owned convenience and grocery stores in Texas and the surrounding area since 1992. http://www.texasjasmine.com/
About Skycore LLC
Skycore LLC, Boston, MA, a leading mobile service provider since 2003, offers platforms to generate, deliver, read and process data embedded in 1D/2D barcodes. https://www.skycore.com