Bluetooth Barcode Scanners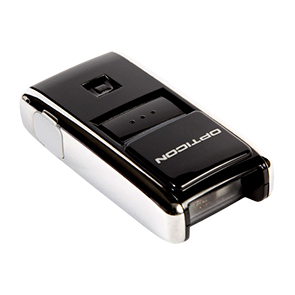 Bluetooth Scanner Support
Bluetooth scanning accessories can pair with both iOS and Android devices. codeREADr supports bluetooth accessories that take over the barcode scanning function of the barcode scanner app. When you connect the bluetooth scanning device with the mobile app, the barcode scans are send directly to the app for processing. The mobile application then records the scans to the online barcode system based on your configuration. Bluetooth barcode scanners come with many benefits.
Point-and-shoot scanning.
Point the laser at a barcode to scan
 
Ultraportable.
Only 1 ounce and 0.6 inches thick
Powerful.
Scans over 20 types of 1D barcodes
Rapid scanning.
No focus delay or glare interference
Alternatives to Bluetooth Scanners
While 'point and shoot' is a nice option, the trade-off with Bluetooth scanning is the need for two devices. You could also consider using a barcode scanning sled like Honeywell's Captuvo which has the same point and shoot capability but the iOS device is integrated with a rugged case and battery pack. You should also evaluate our SD PRO scan engine which rivals the scanning capability of purpose built scanners using just the device's built-in camera. There are many other alternatives to bluetooth barcode scanners if they are not a perfect fit for your company.
Bluetooth scanners can connect to a device in two ways: SPP Mode and HID Mode. SPP Mode (Serial Port) is faster as it captures the entire barcode value at once. HID Mode uses keyboard emulation to enter one character of the barcode value at a time.
| Android | SPP / HID Mode |
| --- | --- |
| iOS | HID Mode only |