October 12, 2022

•

5 min read
The Quickest Way to Scan Serial Number Barcodes

Barcode Scanner App Scans 200 Serial Numbers in 30 Seconds
Suppliers scan serial number barcodes for cycle counts and inventory audits and also to track to whom they've sold their product.  Scanning serial numbers one at a time can be time-consuming and prone to errors. With CodeREADr's barcode scanning app, suppliers can not only scan one barcode at a time but now also scan up to 500 barcodes at a time. Check out the video below to see the barcode scanner app scan 200 barcodes in 30 seconds.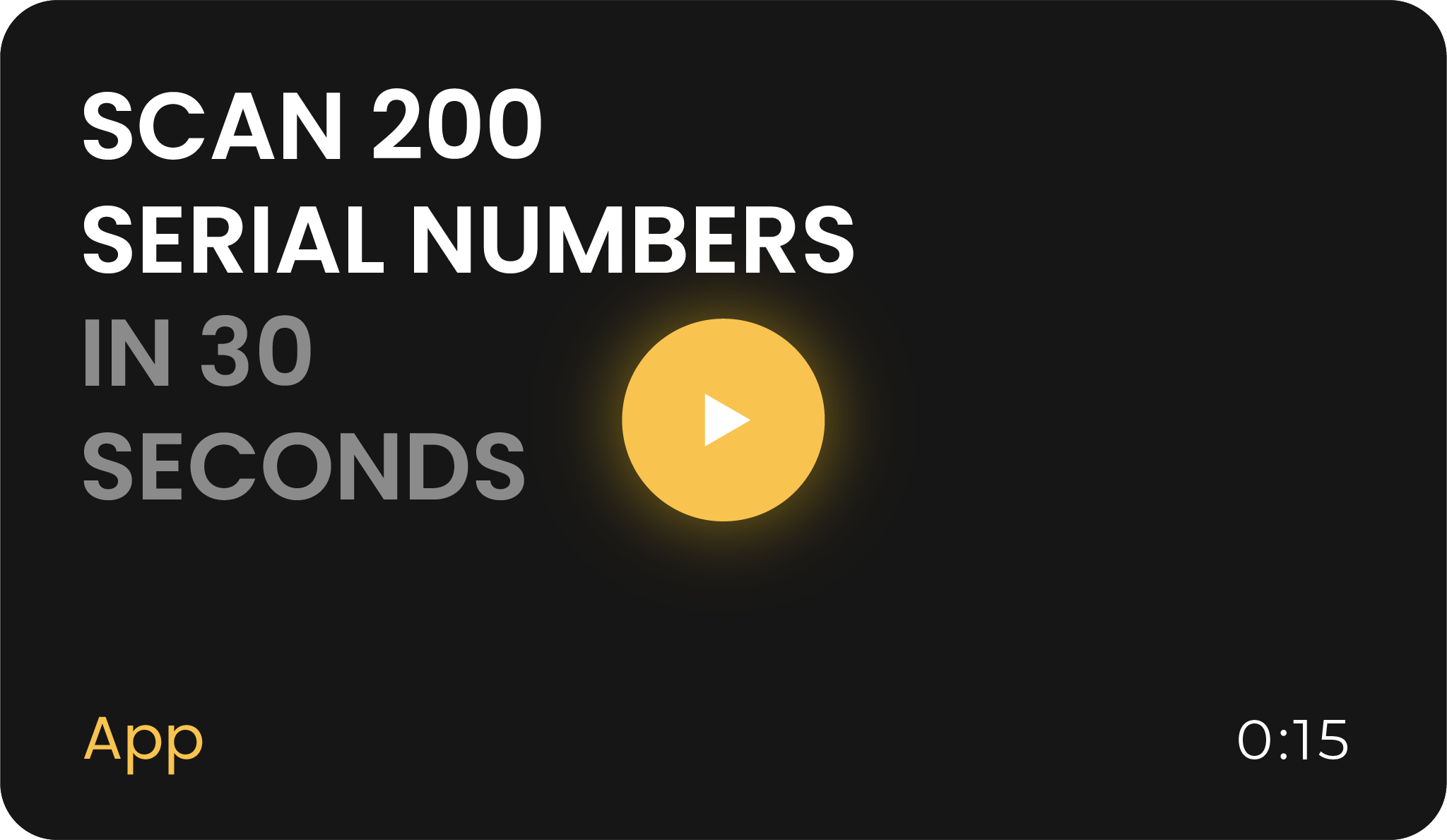 Scan serial number barcodes for cycle counts and inventory audits
For cycle counts and inventory audits, scanning UPC/EAN barcodes is helpful but scanning serial numbers can be even more valuable because they are unique for every item. Thus, scanning serial numbers enables an accurate count of items that have the same UPC/EAN barcode.
Scan serial number barcodes to track items, assets, and processes
Scanning serial numbers for tracking items has become increasingly important due to the generous return policies of Amazon and many online retailers. With recorded serial numbers, sellers can verify if the item was actually sold by them to the person or entity requesting the return privilege.
For asset tracking, serial number records can be used to track assets locally or globally. For example, scanning serial numbers on a car or truck (VIN number) can be used to know the asset's location and condition.
For process tracking, an item's serial number can be used to track activity timestamps, including when the item was received on location. Associated data can also be collected, such as the methods and materials used and how and where the item was deployed.
Add the order number and UPC/EAN barcode to every scan record
The UPC/EAN barcode or SKU associated with the serial number can be important for company records. In addition, the order number gives an important point of reference, whether a work order, sales order, pick list, or packing list. Here's a video showing a Work Order being scanned and then the scanning of serial number barcodes in a batch.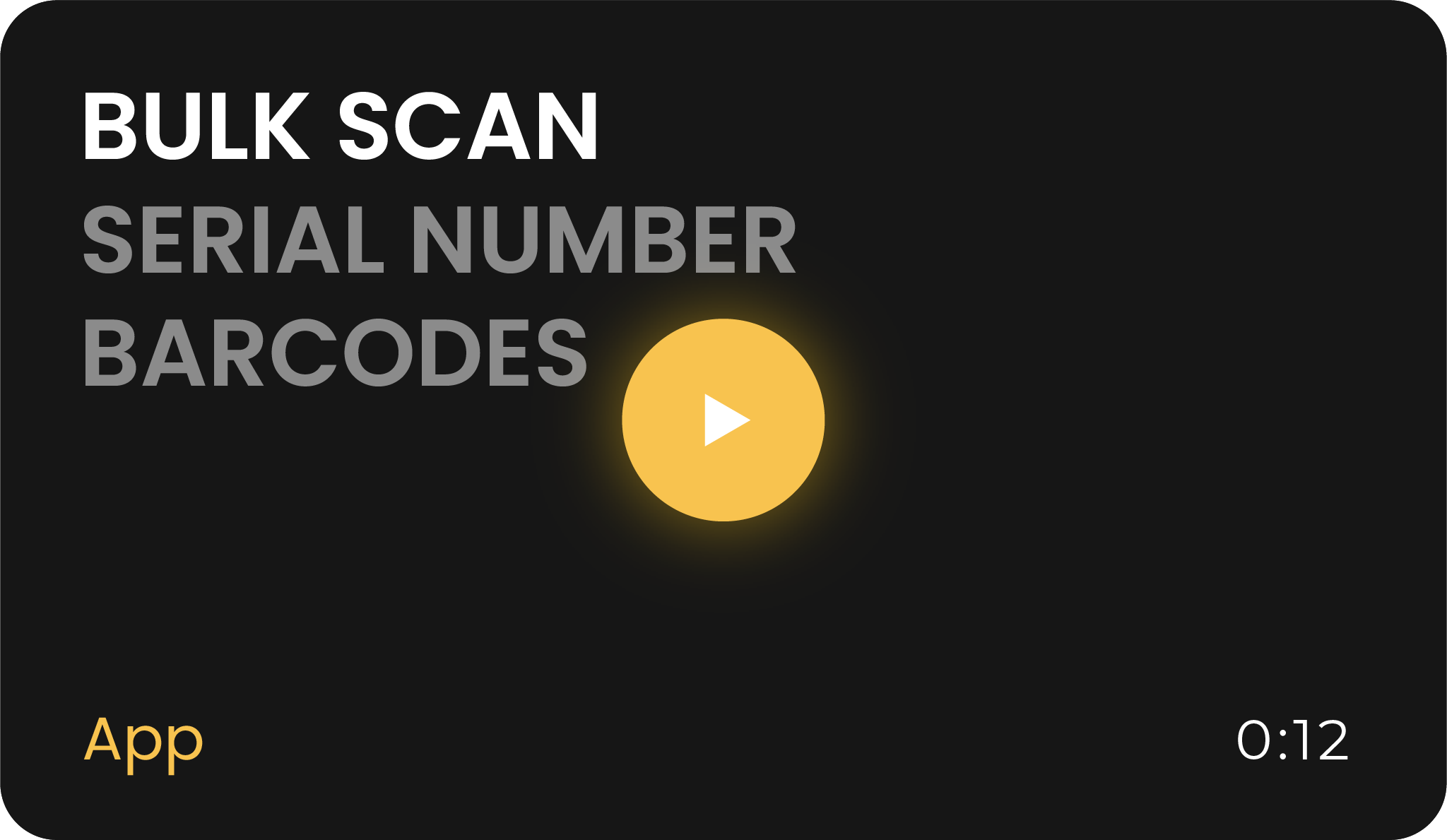 Scan one serial number barcode at a time
The serial numbers, UPC/EAN values. and work order can all be part of a single row of a scan record along with a timestamp, location, and other associated data. An export template can be customized so the export matches the target database's format. If scanning serial numbers one at a time, a scan record when exported would look like this:

Scan a batch of serial number barcodes simultaneously within a single camera view
With batch scanning of serial number barcodes, the results appear in a single cell when exported. Administrators can then transpose each serial number into separate rows with each row containing the associated column data. Here is an example of a scan record from a batch scan of multiple serial numbers transposed to individual rows: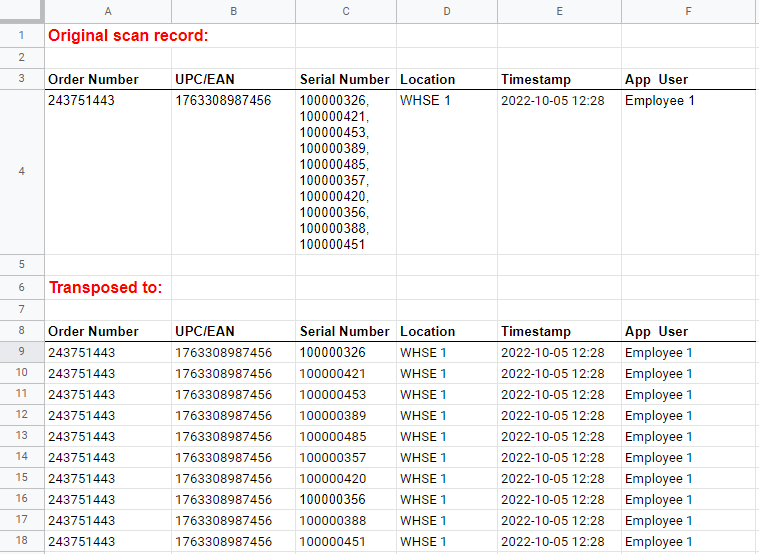 If you would like sample sheets and instructions showing how to transpose the cell data into rows, please contact support@codereadr.com.
Configuring the CodeREADr app for specific applications
Please look here for helpful information and instructions.
In addition, we publish a full list of common applications covering a wide range of data capture, data validation, and data collection use cases.