Self-Check-In for Event Access Control
A client who organizes one of the most well-known events in the world recently asked if we knew which mounting devices would be best suited for hands-free ticket scanning with our codeREADr iOS app (iPod, iPhone, iPad) and Android OS app (smartphone, tablets, rugged devices).
Due to confidentially agreements, we cannot tell you the name of the organizer or the event. However, they manage event access control in ways similar to the way most events do it – namely by scanning barcodes or tapping NFC wristbands.
We don't supply the hardware but we thought we could at least share with you what we found.
Scan Printed or Mobile Tickets
Having the ticket-taker scan tickets while holding the scanning device is necessary in many cases. However, mounting the device for hands-free scanning could lead to faster access and happier patrons. We think it's a very efficient method since ticket-takers can use both hands to scan tickets or attendees can even scan their own tickets.
In fact, a single attendant could watch patrons scan their own tickets and monitor multiple lines simultaneously. Think of it as self-check-in at events the same way there's self-checkout at retail establishments.
Ideal for this type of setup is our Kiosk Mode.
Critical to the success of such a setup, the device's scan engine must read the barcodes extremely fast and accurately without requiring the person presenting the ticket to hold their hand still for capturing the ticket ID for validation. Our SD PRO scan engine already enables that for 1000's of clients every week, so that's not a problem with printed or mobile tickets.
Barcodes and NFC Wristbands
If our clients want to read NFC wristbands instead of barcodes, that's no problem. The NFC enabled device running the Android operating system could need to be mounted in a similar way. However, for self-check-in, you will need a visual a 'target' for the patron to tap. Alternatively, you might consider using an accessory like the pcProx readers that can read not only NDEF-compliant NFC tags but also a wide range of proprietary formats as well.
Mounting Options
In some cases, you will want to scan using the rear-facing camera of the iOS or Android OS device because almost all the built-in cameras have autofocus, enabling the fastest scanning. The position of the mounted device can vary from fully vertical to fully horizontal, with or without a 'target' to indicate where to place the barcode to be scanned.
You could also scan using the front camera but, since the front camera typically doesn't have autofocus, you should test that first to see if it will read your barcodes fast enough.
[Update 4-25-2018: It seems at least some front-facing webcams can now scan quite well. In preliminary testing with the "ASUS Chromebook Flip C101 PA", we found scanning with the built-in webcam to be very fast. Also, it could scan any barcode that we tried so far. Moreover, its 'convertible' into the laptop, tablet, tent, and stand modes. This costs around $230-$280, and you can download the codeREADr app directly from Google Play.]
[Update 10-23-2018: SD PRO now works with the front-camera scanning and the Framing Mode to quickly scan most barcodes. And with the frame,  the attendee sees exactly where to present their barcode.]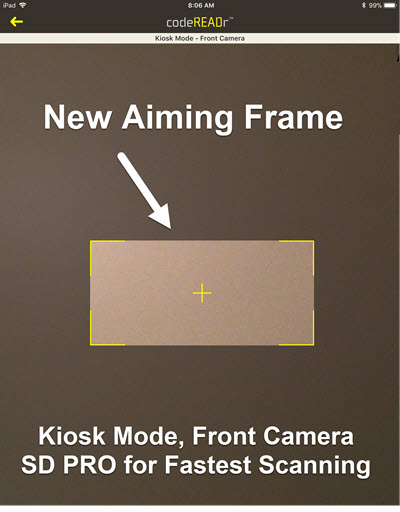 Project Results onto Large Screen Displays – even show Patron Photos
Whether for self-check-in or attendant scanning, the Valid, Invalid, Invalid Duplicate result screens can be presented on large screen monitors. As a result, you can make the results easily seen from a distance. [On a side note, we have clients who do this to 'announce' arrivals. We had one enterprise client's CEO do this for their keynote speech to demo their new attendance tracking service. Apparently, it was so well received he called it his "Steve Jobs" moment!]
You can Google search for many options. For example, you can screen mirror your entire iPhone, iPad, or iPod screen to an Apple TV.
Examples of Mounting Hardware
[Note: The links may not work if the item is no longer for sale on Amazon. Also, the pricing may change at any time. Please let us know if any of the links are broken – support@codereadr.com.]
1. Rugged, locking, tilting ($59.99 on sale)
https://www.amazon.com/Mount-Motion-Security-Locking-Tablets/dp/B01D5CWJDA
2) Simple mount, tilting ($29.50 on sale and $27.99 on sale)
https://www.amazon.com/Ipad-holder-Adjustable-Samsung-tablets/dp/B01IW0FY1Y/
(or)
https://www.amazon.com/Adjustable-fits4-7-13-Smartphones-KitcSthen-YF108DW/dp/B072MDS85H/
3. Flexible neck ($17.99 on sale)
https://www.amazon.com/Tryone-Gooseneck-Nintendo-Samsung-Overall/dp/B01AUQ33LG/
Option: USB or Bluetooth Scanners
If you prefer, instead of using the built in camera of the iOS or Android OS device for scanning, you can pair a Bluetooth scanner or a direct-connect USB scanner to the iOS or Android OS device.
Note: With a USB scanner you will need an adapter to simultaneously connect the USB scanner and charge the iOS or Android OS device. Here are two options: