Barcode Scanning App for Any iOS or Android Device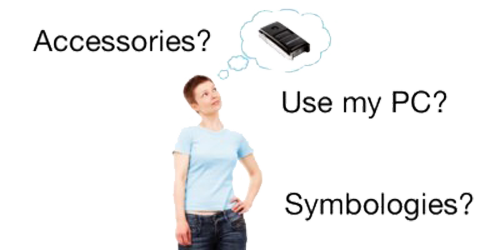 CodeREADr: the Barcode Scanning App with Solutions
The CodeREADr barcode scanning app uses the Android and iOS (Apple) device's camera to scan barcodes. If our app's standard scan engine isn't sufficient for your barcode scanning application, you have these options.
Camera Scanner Upgrade
You can upgrade to our SD PRO scan engine. It also uses just the built-in camera of iOS and Android devices. However, it also scans 50-barcode languages as fast as most industrial mobile computers and purpose-built scanners.
Try it Free
On the CodeREADr app's sign-in page, look for 'SD PRO – Try It.' Then, you can simply scan your target barcodes! You can further improve performance by optimizing it to read just the barcode types you plan to scan.
Barcode Scanning Sleds
You can mount an iPod, iPhone, or iPad Mini directly to Honeywell's Captuvo or IPC's Linea Pro barcode scanning sleds. It uses a red laser pointer for accuracy and can scan 1D and 2D barcodes. It includes a rugged case with a battery for extended life.
Bluetooth Barcode Scanner
You can use pair a Bluetooth accessory to your iOS and Android devices. This includes Socket 'Series 7' scanner or Opticon 'Companion' scanners. With iOS devices, you will connect via the keyboard emulation mode. Then, scan into the app's Manual Entry field. With Auto Next Scan enabled, you can continuously scan without interruption. However, when in keyboard emulation on iOS you can't use the actual keyboard for manual data entry. Whereas, with Android devices, you can use either the keyboard emulation mode or the SPP mode and use the keyboard for manual data entry.
USB Barcode Scanner
You can install the Bluestacks App Player or the Genymotion Android Emulator to run CodeREADr on PCs and Macs, However, that is not as efficient as using the Chrome browser, ideally with a Chromebook.

Mobile Computers with Barcode Scanners
If you want to use a purpose-built mobile computer, like the Honeywell Dolphin Black, the CodeREADr app will work with those devices providing they run the Android operating system. You would set their built-in scanner to the keyboard emulation mode and you can scan from the Tap to Scan screen or the Manual Entry screen. You will want the Tap to Scan screen to not launch the camera – if you don't know how to set that yourself you can email us for help.

Need Anything Else?
As always, we at CodeREADr are committed to solutions for our customers. Always feel free to peruse our website, especially our Knowledgebase for resources and answers to questions about our barcode scanning app. Our blog is continuously providing new and useful information for CodeREADr's various applications. Finally, we are at your disposal by email as well — feel free to contact us at support@codereadr.com.