Asset Tracking and Image Capture App News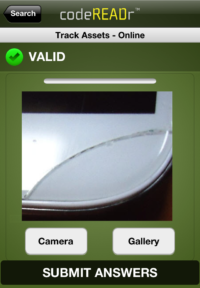 "codeREADr for iOS and Android Captures IDs, Form Data, and Visual Records both Online and Offline to Enable Precise Asset Tracking"
Announcement
Today codeREADr announced adding the ability for auditors and field service workers to photograph tracked assets for inclusion within formal, electronic scan records. This new feature helps enterprises authenticate field data using visual proof of the asset's condition at a specific time, date and location. In other words, we have taken asset tracking to the next level in making codeREADr an image capture app as well.
How Does an Image Capture App Work?
The codeREADr app user is prompted to scan an asset's barcode, take photos, and enter form data via manual entry, voice-to-text, additional scans, multiple choice and drop-down menus. These scan records are posted in real-time to codeREADr's servers or directly to a client's cloud-based or local server. If connectivity is unavailable or unstable, scan records are stored on the iOS or Android device for syncing. This will occur as soon as connectivity is restored.
Why Image Capture for Asset Tracking?
Our clients requested the photo capture feature to more precisely collect and formally document the condition of assets. Similarly, they wanted to document the situations surrounding those assets. This helps reduce data collection errors and, in some cases, fraud.
What Are the Benefits?
The benefits of an image capture app for asset tracking include:
Providing proof for shippers or recipients as to the condition of assets prior to shipment.
Providing proof that rented facilities or equipment were in good condition before/after rental.
Recording an asset's appearance for insurance and valuation purposes.
Recording the improper or non-compliant storage, display or use of assets.
Capturing images of equipment with unreadable barcodes or no barcodes at all.
Bonus Tips
A 'scan record' does not have to be initiated with scanning barcodes or reading RFID/NFC asset tags. codeREADr allows users to simply enter an ID via text or voice. A user may also use the app's lookup option for quickly finding the name, description or ID of an asset, person or object. They can then easily initiate a scan record.