NFC App or Location Tracking App Instead of GPS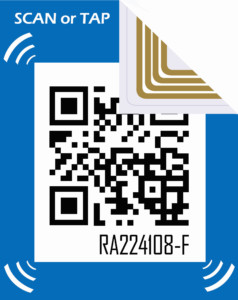 Location Tracking App for Proof of Presence
Did you ever wonder if a worker was actually present at a specific location when issuing a report? For example, did they really check the status of a certain door, fire extinguisher or thermostat? Was your high-value asset really checked? Well, there are solutions. For example, with CodeREADr you can track an employee's and subcontractor's location using the GPS feature native to many smartphones and tablets. In fact, GPS is particularity useful for both on-location and continuous location tracking. However GPS can draw significant power and might be thought of as intrusive, unless only turned on periodically. Fortunately, there are many ways to deploy a location tracking app, such as using an NFC app.
GPS Alternatives
One GPS alternative is to use tamper-proof NFC tags at each location or on each asset, each embedded with a unique tag identifier (TID). While TID-embedded barcodes are sufficient for most applications, they are visual and therefore able to be copied. An NFC app, on the other hand, offer a much higher degree of presence certainty because the TID is factory-embedded into the tag and is not modifiable.
The CodeREADr app reads the tag's TID and validates it against a database residing on our server or yours. The formal scan record includes the TID, date, time, capture method (i.e. NFC read, barcode scan, text entry or TID lookup), and any other data collected at that point of service.
How to Deploy an NFC App
Standard and rugged NFC tags are available from a number of suppliers in the form of decals, labels, tags, windshield mounts, etc. They can be combined with human-readable text and logos, and even supplementary 1D or 2D barcodes. When you order your tags you must ask for a CSV file of the TIDs. That's a common procedure. Also, you should not have the printer 'write' any data to the tag as that would interfere with reading the TID. Contact us if you want to write data to the tag – we can suggest alternative methods.
Instructions are Below:
Simply go to the CodeREADr.com website.
Then, create a 'Validation' service type. You can do so either as an online (real-time) or offline (on-device) service.
You'll need to upload the TID file to a database.
Associate that database to the server.
While the CodeREADr app is available for iOS, Android, and BlackBerry 10.2.1+ OS devices, currently only our Android app can read NFC tags. Contact us if you want to deploy CodeREADr as a location tracking app or NFC app on BlackBerry or iOS devices.