Self-scanning for attendance tracking with barcode scanner app
When capturing attendance data with codeREADr, an admin can scan the IDs of the attendees with an iOS or Android OS device.
Also, you can place an iOS or Android OS device in a fixed position for the attendee to self-scan with or without an admin monitoring the process. Here, you would typically place the codeREADr app in the Kiosk Mode and use the tablet's front camera for scanning.
Because front cameras don't have autofocus, the ideal credential is a QR Code without a lot of information embedded in it. For example, you would use  8-20 alphanumeric characters.
When testing the 'ASUS Chromebook Flip C101 PA' convertible laptop, scanning with the built-in, front-facing webcam quickly scanned any barcode. Also, we paid $229 and downloaded the codeREADr app directly from Google Play. Thus, this could be a good candidate for self-scanning applications.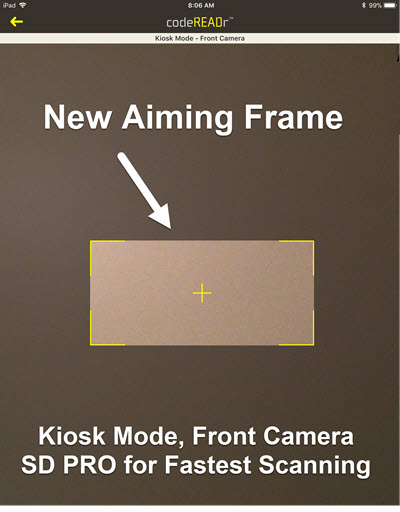 Update 10-23-2018: We enabled SD PRO for front-camera scanning with our Framing Mode option. That has made a dramatic improvement in the ability to quickly scan most 1-D and 2-D barcodes. The frame is special, too, in that the barcode is only read when the whole barcode is in the frame. What that means for unattended scanning is the attendee can see exactly where to place their barcode, thus making it much better user experience.]
If the front camera of your chosen device doesn't scan the barcode ID of the attendee, you can:
1. Use the rear camera which almost always has autofocus.  You might want to set up a visual guide for the attendee so they know where to place their ID.
2. Use a scanning accessory.  One of our clients successfully implemented this setup:
We have not tested that setup ourselves yet. We did try using a lower cost scanner:
This item came right out of the box in the Keyboard Emulation mode (HID) with continuous scan and a carriage return suffix enabled. It scanned well but not flawlessly.  It will only scan linear 1D barcodes (e.g. Code 39, Code 128, UPC/EAN, etc). It will not scan 2D barcodes (QR codes, DataMatrix, etc.). You can see a 12-second demo video here.
Important notes when using any scanning accessory
1. The scanning accessory should be configured for the keyboard emulation mode with a carriage return suffix. Those are typical default settings for such scanners. If not, refer to the device's manual for instructions. If the device supports submission of the scan as a complete string all at once (instead of one character at a time), that's ideal for faster processing.
2. The codeREADr app can be open to the Tap to Scan screen or Manual Entry screen. When configuring the app on codeREADr.com, look for the option of the Advanced step to enable Auto Next Scan and to disable the camera. You can optionally also enable Kiosk mode there if needed.