Filtering Your Scans
codeREADr's 'Scans' page has powerful filtering tools that let you view exactly the scans you want on our website. Below are the different components of the filter tool, and how each of them influences the search.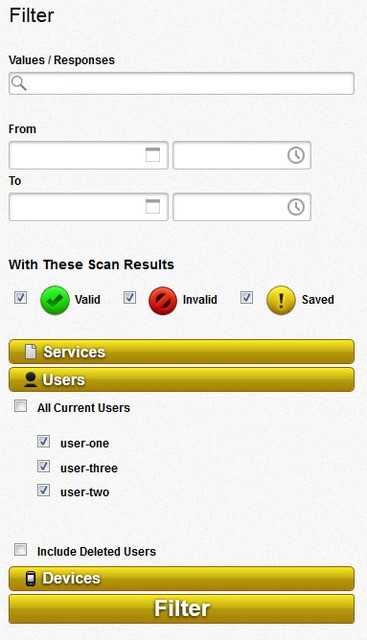 Tabs: The tabs in the first image allow you to instantly filter only the scans that were taken while the mobile device was online ("Online Scans"), or offline ("Offline Scans"). The tab "Scan Uploads" organizes scans by batching together the scans that were uploaded together by the mobile users.
Search Bar: The full text of every barcode value and response you've scanned is searchable – just type in a query in the search bar.
Date Picker: You can specify a start date for your list of scans, an end date or both. That means you can choose to view all scans before or after a certain date, or specify a date range.
Scan Results: If you've validated scans against a database, you can filter by whether the scan was valid, invalid or saved to the device without validation. If you're recording scans without validation, they will all appear as valid.
Service / User / Device Filtering: Choose the specific users, devices and services whose scans you'd like to view. You can also use this section to view scans made by users and services you've deleted – just click "All Deleted Services" or "All Deleted Users" under the appropriate section.
Press the "Filter" button to see your filtered scans.