Direct Scan to URL (DSU)
Direct Scan to URL (DSU) enables scans from the codeREADr mobile apps to be posted directly to your server and your server to post the scan response directly back to the app. No scan or response data is posted to codeREADr's server.
This type of service has the benefits of Postback URL with added data security. Also, it enables the use of the codeREADr apps with local area networks. This is useful in case of enterprise or government firewall restrictions or for events or tasks with unstable or uncontrolled Internet connectivity.
Please look here for developer instructions and here for helpful hints.
1 – Receiving server responds to the scan and the app-user sees that response.
<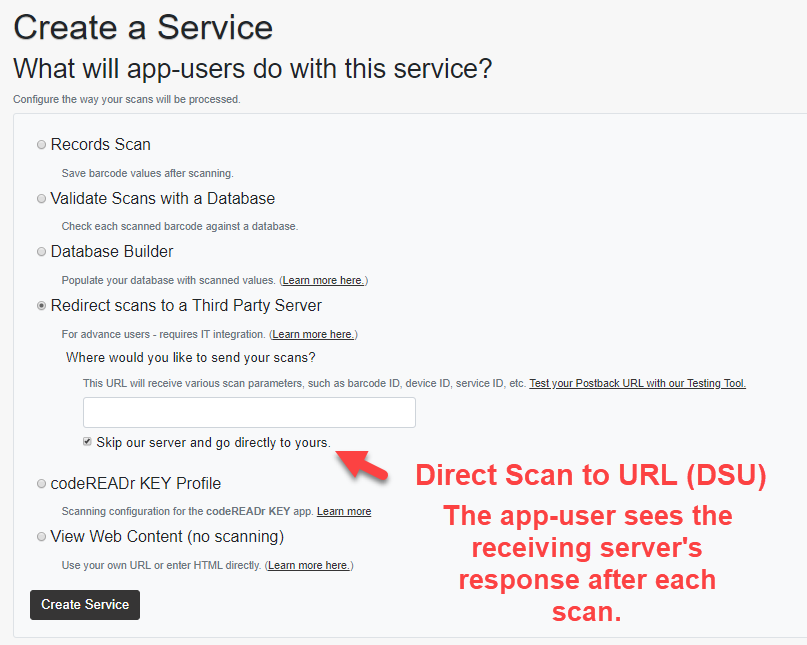 2 – On-Device (offline) record scans or validate scans. App-user sees pre-configured response.
Since this DSU method is based on offline scanning, the scan response (valid, invalid, response text) would have already been seen by the app-user before the receiving server receives the post. However, the receiving server must still respond to each scan to acknowledge receipt.  The app will then stop trying to post that scan record.