Coronavirus (COVID-19)
Emergency Tracking on a Global Scale
Configure your Workflow Once and then Instantly Deploy Globally
The codeREADr SaaS platform is a cloud-based web service with integrated mobile apps that run on iOS and Android OS smartphones and tablets. Administrators configure their workflows ("Services") on our website and authorize their employees, subcontractors, and volunteers to capture and collect data as 'app users'.
App users simply download the codeREADr app (or a white label version) to their devices and enter the credentials issued by the account administrator. Then, they can see the specific workflow(s) that the admins created.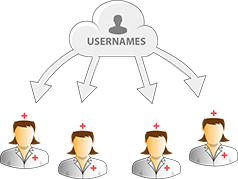 Where do people use codeREADr?
Since 2009, many of the world's most popular events used the codeREADr platform for access control. Also, it's popular for attendance tracking at schools, educational sessions, and at remote construction sites. Moreover, we are getting high demands for asset tracking, inventory auditing, digital picklists, track and trace, and many other enterprise applications.
Relative to emergency situations, examples of typical deployments include:
You can use the codeREADr app for any application requiring data capture and data collection, with the resulting data connected to our server, our client's servers or to third party servers.
How to use codeREADr during the Coronavirus (COVID-19) Pandemic.
Depending on how you configure codeREADr you can:
Track people who have the coronavirus. Learn with whom they've been in contact and document their ongoing status.
Track people in contact with those confirmed with it. Issue warnings to them and start tracking their status.
Track people who've had it or the eventual vaccine. Know who's safe to work with, care for children, etc.
You choose the methods and tools best suited for your needs.
1 – Scan existing IDs with barcodes or embedded RFID/NFC circuits. If the existing ID doesn't have a barcode, you can purchase rolls of 1000 unique labels that you can affix to then.
To issue new IDs you can purchase wristbands with barcodes or RFID/NFC tags . Forward-thinking would be to use digital IDs. For example, you can check out the digital IDs from ID123.
2. For onboarding, you can validate against an existing database or scan the person's new ID credential. Then, add their information to a database. Standard collection options include text fields, dropdown menu selections. Also, you can optionally include photos, GPS locations, and signatures.
3. Create a workflow on codeREADr's website for each data collection task. For example, you can have an app user's task to be onboard. Then, you can have others for tracking the ID at different stages or locations.
4. Every scan record includes:
Who scanned the ID (the app user)
What was scanned (the ID)
When captured (date and timestamp)
Where captured (GPS location)
How captured (barcode, RFID/NFC, manual entry, etc.)
Why scanned (for which intended use)
5. Then, you can view the scan record on codeREADr's website. Also, you can filter and download the scan records directly. Moreover, you can auto-export those to third party servers via FTP/SFTP and to database services such as Google Sheets, Excel, and Dropbox. Alternatively, retrieve scan records with API calls or post directly from the mobile app to our client's servers.
For more information
Please email support@codeREADr.com. Also, you can use our website's Chat Now utility for real-time support from our support specialists (not bots).