Access Control for Tickets issued by Any Ticketing Platform
Venues and event organizers can use the fastest barcode scanning app to instantly validate online or offline against a specific pattern and also stop the use of duplicate IDs.
The codeREADr mobile app is used by 100's of ticketing companies globally for event access control. Why?
Fast scanning with an iOS or Android OS camera
Online validation in real-time
Instant validation offline with Auto Sync 
Option to use scanning accessories (USB, Bluetooth, scanning sleds, Android Mobile computers, etc.)
Use your own smartphones and tablets or rent them from third-party vendors
Validating Actual Ticket ID
What if your ticketing company (or ticketing software) has not integrated yet with codeREADr? Can you use our app? Yes, you can! If you can download a CSV file of your ticket IDs then you can import them manually to codeREADr.
What if the ticket IDs are not available,  either because you don't have access or because tickets are sold up to and after the event starts? You can still use the codeREADr app. How?
Option: Pattern Validation and Duplicate Checking without a Database
If you don't have access to your ticket IDs but your ticket IDs have a consistent pattern, the app can validate against that pattern. It's not as secure as validating the entire ticket ID but it's a potentially viable option, especially if the biggest concern is catching the duplicate use of the same ticket.
---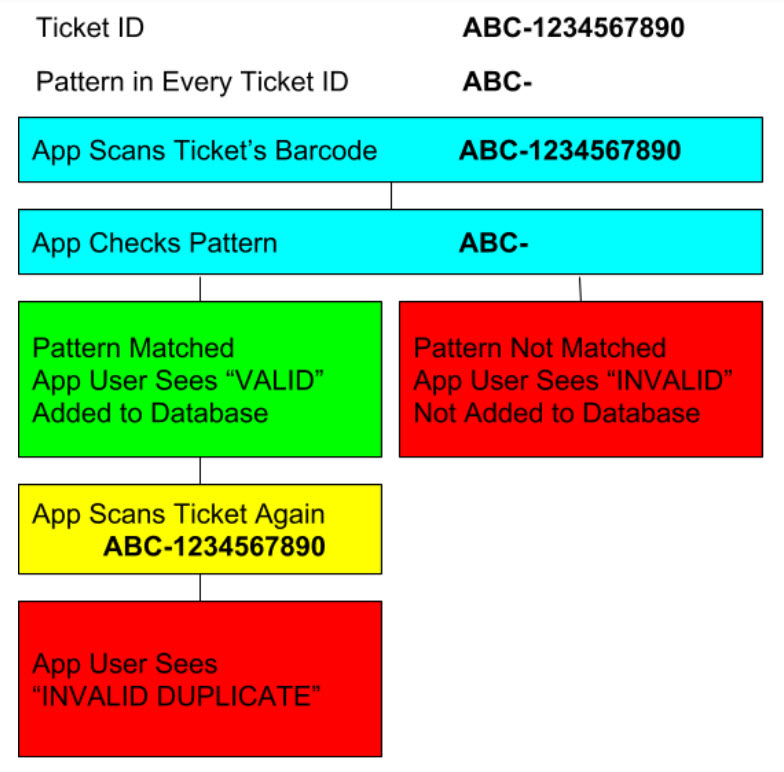 ---
What if there is no Pattern?
If your ticket IDs have no pattern, you can still use this feature for stopping the use of duplicate tickets.
Instructions