May 12, 2023

•

2 min read
Secure Mobile App for Remote Access Control and Attendance Tracking

Securely control access and track attendance with smartphones and tablets at remote work locations, events, classes, and sponsored gatherings.
Access control and attendance tracking are critical tasks for many businesses and organizations. However, traditional methods of attendance tracking can be cumbersome, expensive, and time-consuming to deploy in cases where there is no existing infrastructure.
A secure, mobile access control and attendance tracking app is an excellent solution in such situations. It allows businesses to control access and track attendance without the need for traditional access control hardware.
Instead, mobile devices such as smartphones or tablets can scan new or existing IDs of attendees (employees, visitors, subcontractors, patrons, etc.). Only if the ID is valid will the attendee be allowed access. Also, timestamps are recorded for every check-in and check-out action.
The two most common deployment modes are the secure access control mode and the kiosk attendance tracking mode. 
Secure Access Control Mode
The secure mode is where an administrator (e.g. a manager, guard, etc.) at the entrance holds the smartphone and scans the attendee's ID. It's secure because after each scan the administrator sees the attendee's status on the smartphone's screen as a valid, invalid, or an invalid duplicate scan of the employee's ID. The administrator can then allow or deny access based on the status.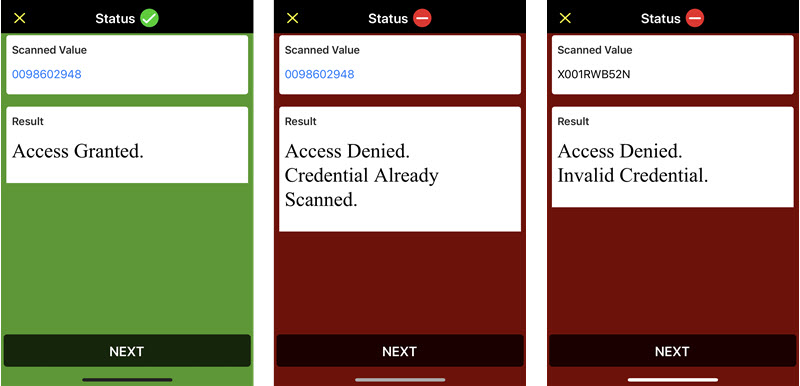 Kiosk Attendance Tracking Mode
The kiosk mode is where a tablet is mounted at one or more entry points and the attendee self-scans their ID card to gain access. It differs from the secure mode in that there is no administrator at the entrance. Instead, the administrator can optionally monitor the results of each scan from a nearby location.
Even though this mode also tracks validity, there's no guard to block access. Therefore, using this mode would imply at least some level of trust in who will attempt access.
IDs and Devices
It is important to know what "object" the smartphone or tablet will be reading. The most common capture method is using the built-in camera to scan and read a barcode value. Alternatives include reading RFID and NFC tags embedded in the attendee's ID. A video in this blog post about attendance tracking will help you understand the capture process.
Common Deployments of Remote Access Control and Attendance Tracking
Construction sites
Events
Classes on or off campus
Trade show sessions
Remote transportation
Sponsored gatherings
Parking lot control
Temporary housing
Group travel
Fire drills, evacuations, emergency mustering
A mobile app for remote access control and attendance tracking is an excellent solution for businesses and organizations that require solutions without the need for traditional hardware or infrastructure. It provides real-time data, improves accuracy over manual methods, and is cost-effective.