Inventory Tracker and Barcode Asset Tracking for Any Enterprise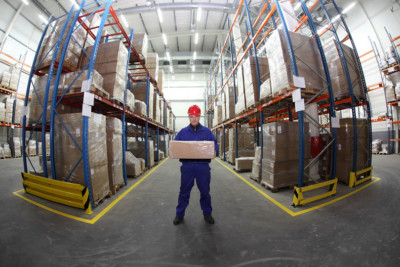 Shocking News
The codeREADr app has many applications. One of the most widely applicable is barcode asset tracking. As an inventory tracker, for example, codeREADr can and does significantly decrease inefficiency in enterprise asset tracking. This happens across many sectors. The Reuter's Special Report: The Pentagon's doctored ledgers conceal epic waste highlights how the Department of Defense could utilize codeREADr's technology to in their inventory and labeling systems.
The report was published on 11/18/2013. In it, Scot Paltrow cites a Pentagon document showing that as of Sept. 30, 2012, "the DLA"
[Defense Logistics Agency] and military services had $773 million worth of supplies and equipment on order that was already stocked in excess amounts on warehouse shelves."
Barcode Asset Tracking's Background
In 2004 the Pentagon mandated a labeling system. It was designed to alleviate such excesses. However, the DLA claimed the cost outweighed the benefits. "To date, the DLA has ignored the directive to use the system," according to Paltrow. The Pentagon's labeling system likely does cost a lot to deploy and maintain. Maybe our technology can help. In a big way. We have field reports indicating it already is.
codeREADr's Goal as an Inventory Tracker
Until now, purpose-built mobile computers had been required to quickly and accurately scan the mandated UID barcode formats. Our goal is to allow the defense industry to compliment those special devices with convenient, feature-rich, lower-cost iOS and Android smartphones and tablets. In that way, barcode asset tracking can be less expensive and more frequent. It can also be conducted anywhere, whether in warehouses or in the field.
To that end, we added the ability for our app's SD PRO scan engine to scan UID barcodes, concatenate the resulting data, and securely post it to local or cloud servers. Our SD PRO scan engine uses only the built-in iOS and Android camera to capture data embedded in UID barcodes and most other commercial barcodes. With our regex technology, the app concatenates the captured data for recording to or validating against online or on-device databases.
Don't Forget
In situations where internet connectivity is slow or unstable, the app works in the offline mode. For secure applications, the app bypasses codeREADr's servers and sends the scan record via SSL directly to client-managed servers.
If the barcode is not able to be scanned, the app user can either manually enter the code. They can also look up the item using the on-device or online database. We are currently beta-testing a new feature. In it, the app user can capture the image of the barcode – or the item itself. They can then submit the image as part of the scan record for that item.
What Else is Out There
Are there alternatives to using the smartphone camera? Yes. You have a couple of options. In fact, several manufacturers of purpose-built mobile computers are starting to release devices embedded with the Android OS. That's ideal because codeREADr can not only be installed on those devices but smartphones and tablets as well. This would lead to a seamless deployment as an inventory tracker across all devices.
We would be a very proud team of developers to more fully participate in the defense industry's efforts to improve our country's apparently inefficient inventory system.