Data Capture App Integrates Bluetooth Scanning Accessory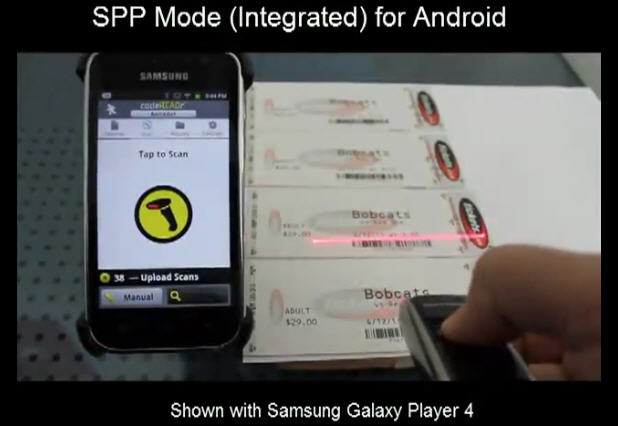 Skycore LLC, developers of 'codeREADr', the commercial, auto-ID and data capture app and SaaS platform, has today announced integrating its first Bluetooth scanning accessory, the Opticon OPN2002, to enable the scanning of a broad range of 1D barcode symbologies much faster than when scanned using just the camera native to smartphones and tablets. By pairing smartphones with a Bluetooth scanner, the codeREADr data capture app now supports the scanning, tracking & validation of 1D Barcode symbologies previously difficult or impossible to read using just a smartphone's native camera.
Complementary Technology
This new feature complements codeREADr's current use of the native camera for scanning, tracking & validating print & mobile barcodes, along with its reading of Near Field Communications (NFC) tags, cards and phones.
"While our app's native scan engine readily scans 2D barcodes (QR and Data Matrix) and select 1D barcodes (UPC/EAN, Code 39 and Code 128), we've received requests to support other common 1D symbologies and to provide faster scanning for certain high-throughput applications, such as ticket validation at venues," said Rich Eicher, CEO of Skycore LLC.
"By integrating this Bluetooth scanner, we've enabled our clients to use a wide variety of smart devices to scan virtually all the popular 1D symbologies, including those most difficult to scan.  And we can do this with lightning-fast, point-and-shoot scanning, regardless of the native camera's quality or ambient lighting conditions," said Eicher.
Full Integration
Clients can use the codeREADr app with the OPN2002 in the fully integrated SPP mode (Serial Port Profile) for Android smartphones, players and tablets and in the HID keyboard emulation mode for iPhones, the iPod Touch and iPad 2.  The app will support codeREADr for BlackBerry using the SPP mode in Q3 2012. For details, please visit: https://www.codereadr.com/bluetooth-barcode-scanner/
About Skycore LLC
Skycore LLC, a Boston-based mobile service provider since 2003, enables the creation, delivery, reading and validating of data embedded in 1D/2D barcodes and NFC targets.